Intro
Old but capable TDS5034B scope had a busy life, but as everything, it eventually failed. So this article is not a review, but a fix guide, which was written after trial and error repair attempt after scope refused to boot Windows 2000 OS.
Troubleshooting
It was giving damaged registry error, and even after using recovery registry. First I just took new 250GB SATA HDD and installed fresh Windows 2000 Pro SP4 on it. Tektronix drivers for custom devices, such as interface PowerPC board, USB front panel, but after attempt to install Tektronix TekScope software issue quickly revealed pesky OS version or similar software check by installer: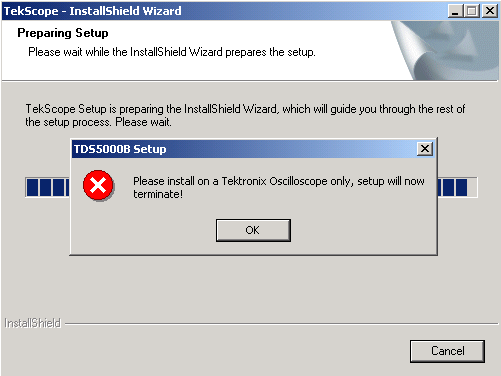 So Plan B, restore of backup registry from C:/WINNT/Repair folder instead of C:/WINNT/System32/config allowed original Tektronix-modified Windows 2000 HDD to boot successfully, but TekScope application was not happy and threw "serious error" message.
Reinstallation of TekScope software v2.0.11, downloaded right from Tektronix website did not help and result was same error message.
Quick google revealed another user at EEVBlog having similar issue, but with older non-B TDS5000. But in my case there was no magic button on PowerPC vxWorks interface board, used in this TDS5034B. There was undocumented jumper in very similar location, which I tried shorting up while unit was powered off and powered on, but it did not do anything different to behaviour.
Original OS recovery CD which came with this TDS5034B were useless, giving error message that unit used incorrect motherboard. Here are images, in case some reader find them useful.
TDS5000B Series Operating System Restore CD – Recovery Media for TDS5032B, 5034B, 5052B, 5054B, 5104B, 5054BE, Version 2.1.3
Tektronix CD 063-3478-25, CD 1 of 1, Optional Applications Software for Windows-based Oscilloscopes
Brief teardown
Unit is rather easy to disassemble, no hidden caveats. Just single-size TORX screws and lot of metal covers and panels.
Front terminals with TekProbe ports.

For x86 computer part standard mini-ATX motherboard was used, Advantech Model AIMB-562VG-00A1E. First photo on manufacturer's website is not correct, but second looks exactly like the board in the scope.
This Intel 945G-based motherboard was populated with single DDR2 UDIMM 512MB stick and Intel Celeron D 341 processor.
Interface board with PowerPC running vxWorks: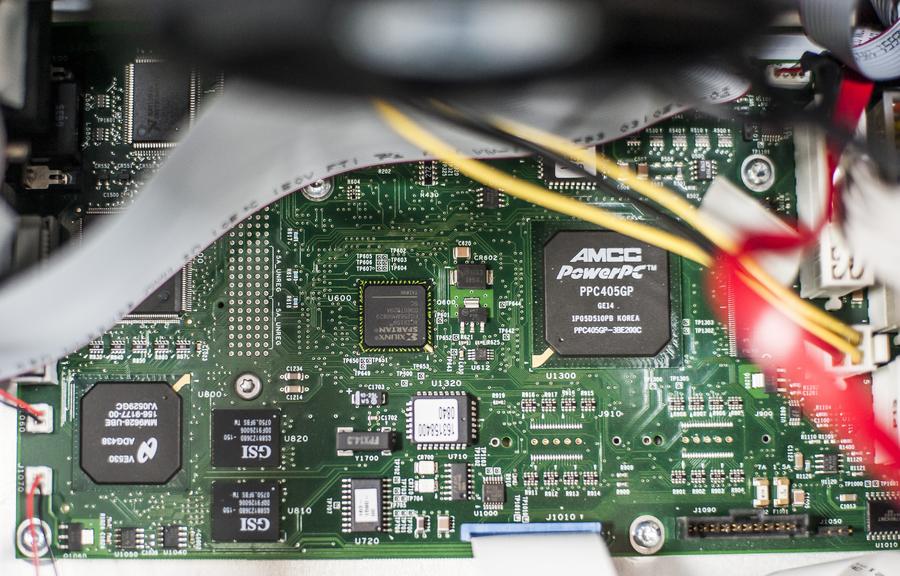 Acquisition board with custom Tektronix ASICs and front-end channels.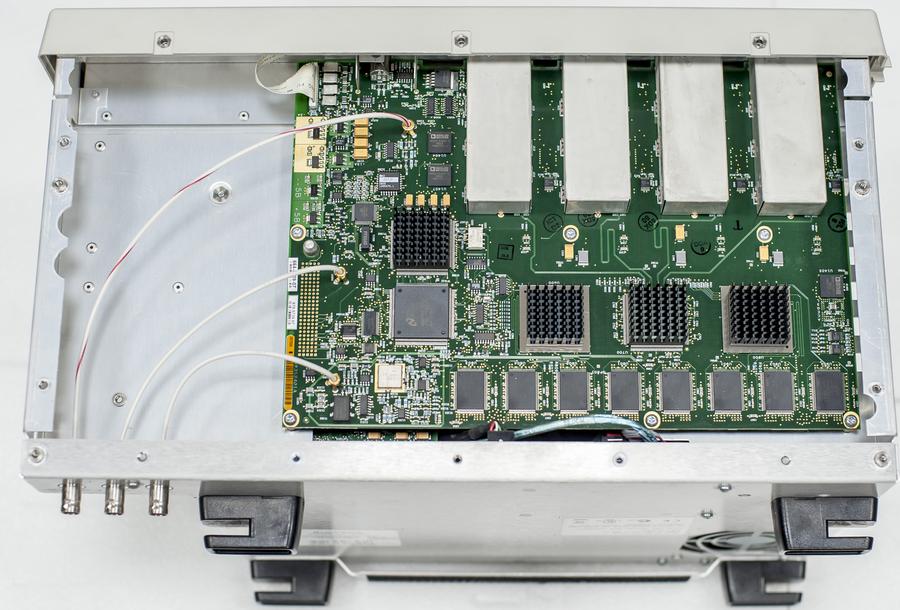 You can see interfacing to PCI slot and bottom side of the PC motherboard.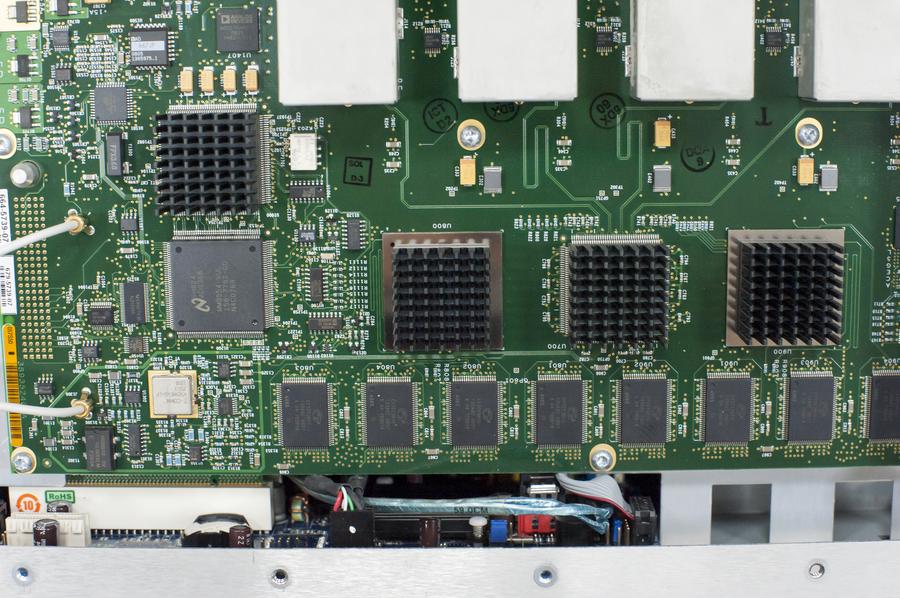 Few more photos of acquisition board. I did not remove or do anything on it, not to upset front-end parts around.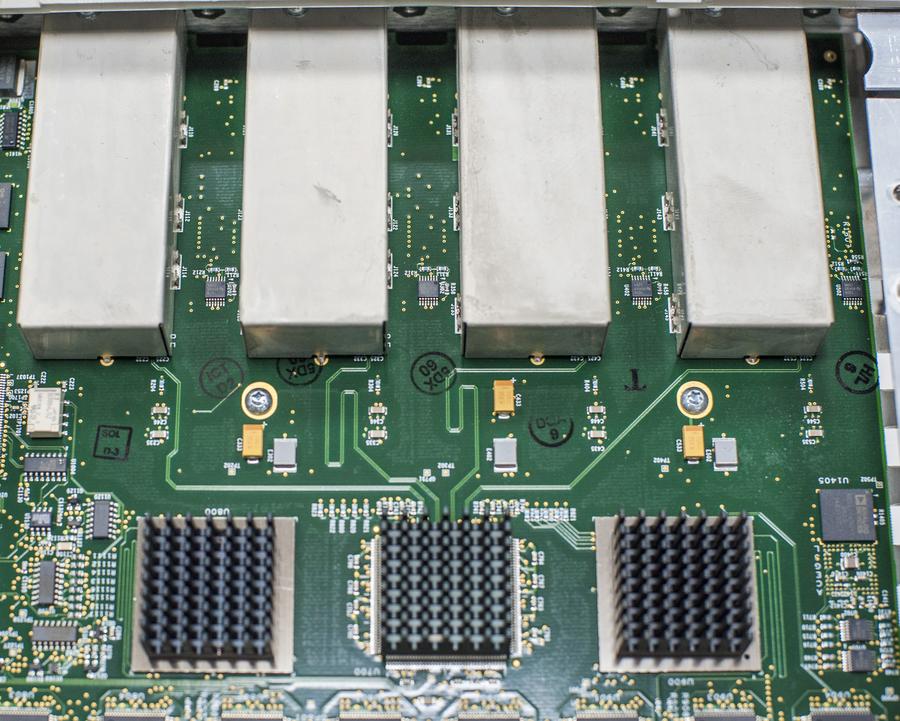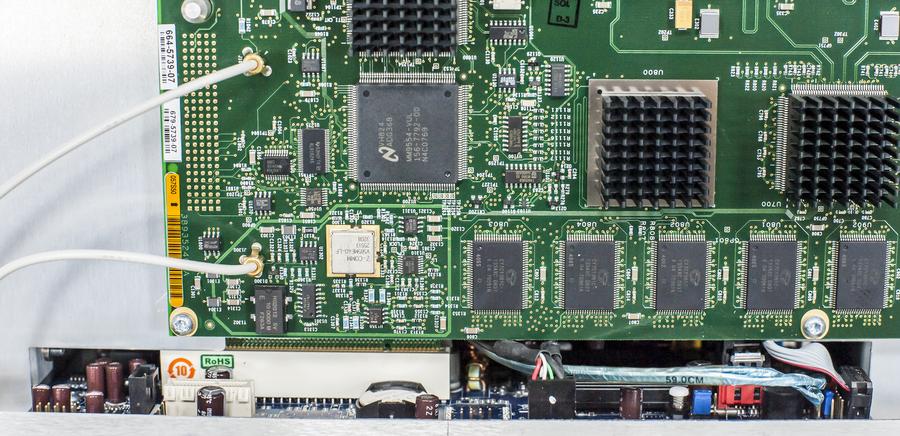 OS Image reinstall
Norton Ghost 11 Image Norton Ghost 11 .GHO Hard-drive backup image file from TDS5000B series B02xxxxx scope, size 2.4GB
I restored OS Image using Norton Ghost, however system did not boot, crashing into BSOD.
It is because Windows 2000 refuse to start after disk containing already pre-installed system moved to a different motherboard. Since the other motherboard storage controller is different, a message like:
STOP: 0×0000007B (0xF741B84C,0xC0000034,0×00000000,0×00000000) INACCESSIBLE_BOOT_DEVICE
Will inform you about missing drive and boot will be halted. This is covered in depth on Microsoft KB 324103
There is a solution though. I don't have original motherboard from which Ghost Image was created, but we can add storage controllers using registry modification with help of another Windows XP/7/8/10 system. The following procedure was tested on a Windows 2008 Server R2 OS and a target Windows 2000 system using an regular SATA drive.
Remove the scope

SATA

HDD

and connect as second drive on workstation with Windows XP+ OS.
Startup your computer using your operating system
Make a backup of the

WINNT

\System32\config folder, just in case you do something wrong, you will have recovery backup.
Open the registry editor regedit
Select the

HKEY

_LOCAL_MACHINE tree, go to the Registry menu, select Load Hive
Browse to

WINNT

\System32\config folder on the secondary drive from scope
When asked for a name, give it the name aaaa (this is important, since it must match the file you downloaded on next step)
Close the registry editor for now
Extract archive to some folder and select mergeide1.reg. Confirm the question to add the file to the Windows registry.
You have two choices: mergeide.reg or mergeide1.reg. The difference is that the mergide1.reg does not contain the entries for the drivers. Most of the time, they are present anyway. It is probably safer first to try this version. If mergeide1.reg does not work, do the procedure again and use the mergide.reg file.
Reopen the registry editor again and look for the aaaa tree in the

HKEY

_LOCAL_MACHINE directory
Select it and from the Registry menu, do Unload hive (do not forget this step!)
Close the registry editor, we done here.
Shutdown the computer, remove secondary scope HDD and plug it back into the scope. In my case now fresh OS booted just fine: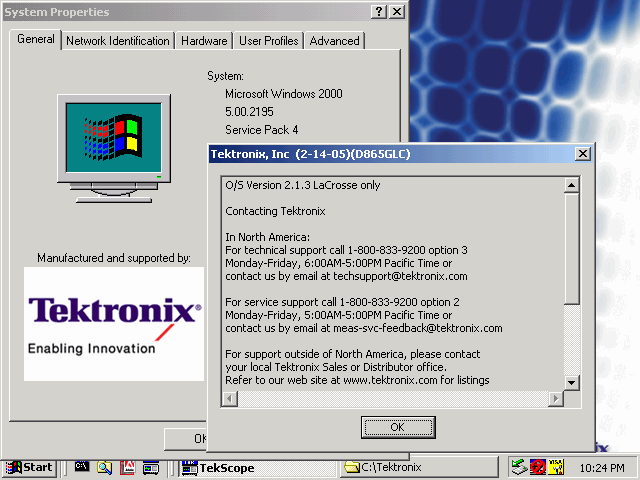 Now install drivers using package from the old HDD. I made an archive with all files for your reference:
Tektronix Drivers for Windows 2000, TDS5034 B05xxxx, Intel 945 series motherboard 237MB, includes drivers for Audio, Tektronix custom Graphics, Intel Graphics, Chipset, LAN, NI-488.2, Tektronix PowerPC interface board and USB front panel.
And to my awe, TekScope application clicked front panel, acquisition board relays (which means it's talking with HW) and started just fine too!
Upgrade path for PC
Original Intel Celeron D 341 processor could be easily upgraded to much more faster dual-core Intel® Core™2 Duo Processor E6600. I had one lying around and after simple swap it worked just fine, without any problems.
Memory also easily upgraded if desired, so I left 2×1 GB DDR2 UDIMM modules in the scope, as you can see on photo above.
Result
Self-test is as good as 100+ loops without single error can be.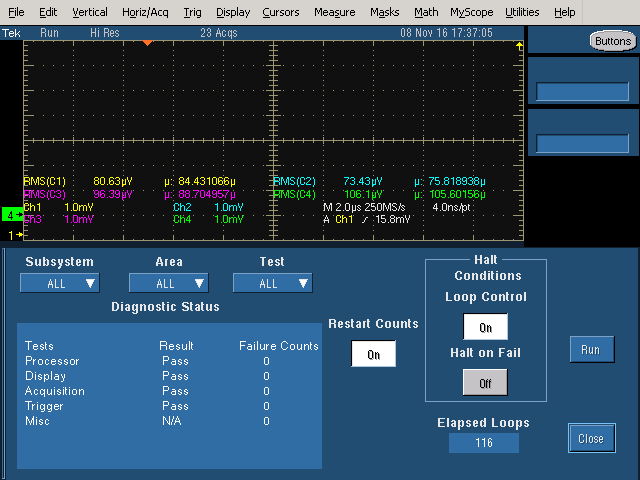 Also SPC procedure completed without errors as well.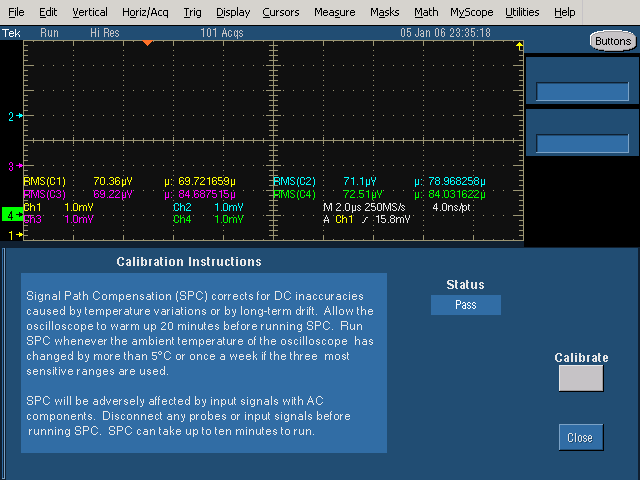 Happy scope is back to business! I'd like to give credits to EEVBlog forum member Jwalling for taking trouble and providing TDS5000B image, which helped to get this unit working.
Created: Nov. 2, 2016, 8:59 a.m.

Modified: Dec. 23, 2016, 8:18 a.m.
---