While ago we got TCA-1MEG dongle for Tektronix oscilloscope to allow high-impedance probing with 7K/70K series.
Features & Benefits
Bandwidth – DC to ≥500 MHz
Input Impedance – 1 MΩ / 10 pF
Bandwidth Limiting – Full/100 MHz/20 MHz
Input Coupling – DC/AC/GND
Includes P6139A, 500 MHz, 10x Passive Probe
TekConnect Interface Delivers Superior Signal Fidelity, Unparalleled Versatility, and Ease-of-use
Applications
Verification, Characterization, and Debug of Sophisticated Designs in Communications, Computer, and Semiconductor Electronic Environments
Jitter and Timing Analysis (Computer Systems)
Disk Drive Analysis
Investigation of Transient Phenomena
Spectral Analysis
Power Supplies/Inverters (Switching and Linear)
Semiconductor Devices (

SCR

s,

IGBT

s,

FET

s,

CMOS

)
Electronic Ballasts
Industrial/Consumer Electronics
Mobile Communications (Phone, Satellite, Relay Stations)
Motor Drives
Transportation Systems (Electronic Vehicles, Electric Trains, Locomotives, Avionics)
It's useful to take a look inside of unit, without going too deep, as device fully functional and currently in use.
Case holds everything in place with help of four bolts. After removing them, outer cover slide out freely: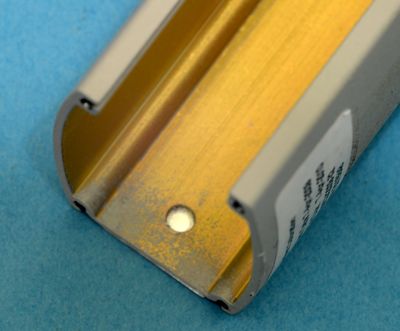 Everything holds in place with help of three PCBs and ribbon cables: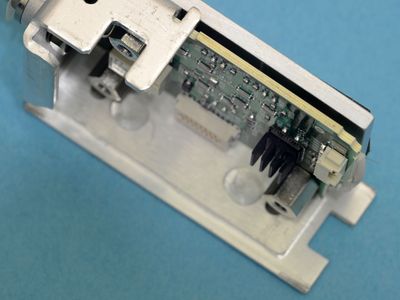 Main PCB is using ceramic or alumina-kind substrate to aid frequency response and reduce parasitic effects.
Auxilary signals are routed by ribbon cable and additional FR4 PCB with just breakout connectors and passives:
On BNC input side there is additional PCB to provide coupling with I2C and power for active probes:
Input port support construction:
Here's TCA1-MEG attached to ours Tektronix CSA7404 and active probe and available options on scope vertical setting menu:
Comparison to passive TCA-BNC adapter, which provides only 50 ohm path for TekConnect interface: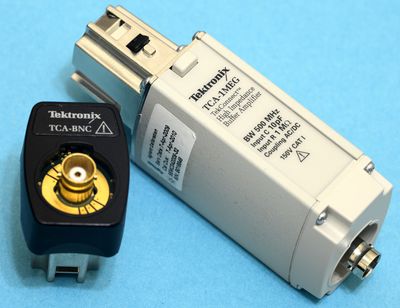 Created: July 4, 2015, 7:09 p.m.

Modified: Feb. 11, 2016, 12:06 p.m.
---