Got Keithley insturment with no display after power on?
Perhaps issue is damaged vacuum fluorescent display. It's easy to confirm by looking for white spot where getter is located.
White means vacuum inside the tube is lost due to physical damage or chip in the glass. Only solution is to replace damaged glass with new good display. Sadly Tektronix/Keithley do not sell VFD glass for component level service, only offering expensive complete front panel assembly. As result cheap Keithley 7001 is the most likely donor of a replacement display and it is beneficial to know which display is in your meter and the donor meter.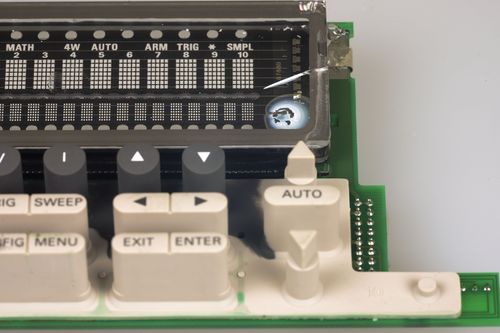 Disclaimer
Redistribution and use of this article, any part of it or any images or files referenced in it, in source and binary forms, with or without modification, are permitted provided that the following conditions are met:
Redistributions of article must retain the above copyright notice, this list of conditions, link to this page (https://xdevs.com/fix/kei_dd51/) and the following disclaimer.
Redistributions of files in binary form must reproduce the above copyright notice, this list of conditions, link to this page (https://xdevs.com/fix/kei_dd51/), and the following disclaimer in the documentation and/or other materials provided with the distribution, for example Readme file.
All information posted here is hosted just for education purposes and provided AS IS. In no event shall the author, xDevs.com site, or any other 3rd party, including Keithley/Tektronix be liable for any special, direct, indirect, or consequential damages or any damages whatsoever resulting from loss of use, data or profits, whether in an action of contract, negligence or other tortuous action, arising out of or in connection with the use or performance of information published here.
If you willing to contribute or add your experience regarding instrument repairs or provide extra information, you can do so following these simple instructions
Display types and replacement notes
While replacing the dim display on my Keithley 2002 I have discovered that the DD-51 display as used in the Keithley meters could be made by two different manufacturers (BOE and Itron) with different lead form configurations.
It appears that there is a Keithley 2002 serial number break which appears to be a change from a 06XXXX (old) to 11XXXXX (new). My donor meter was a Keithley 7001, the serial numbers on it seem to follow the same pattern. In my case the donor 7001 was serial 111XXXX while the Itron 7001 I have is serial 065XXXX. Also of note, my K2002 had the large mesh fan grill, where the newer Keithley 2002 have the small mesh grill.
The newer display was made by Zhejiang BOE Display Technology Co., Ltd. The older original displays are made by Noritake-Itron (Itron).
BOE

DD-51, My Keithley 2002 board (

PCBA

manufactured around 2006 week 40)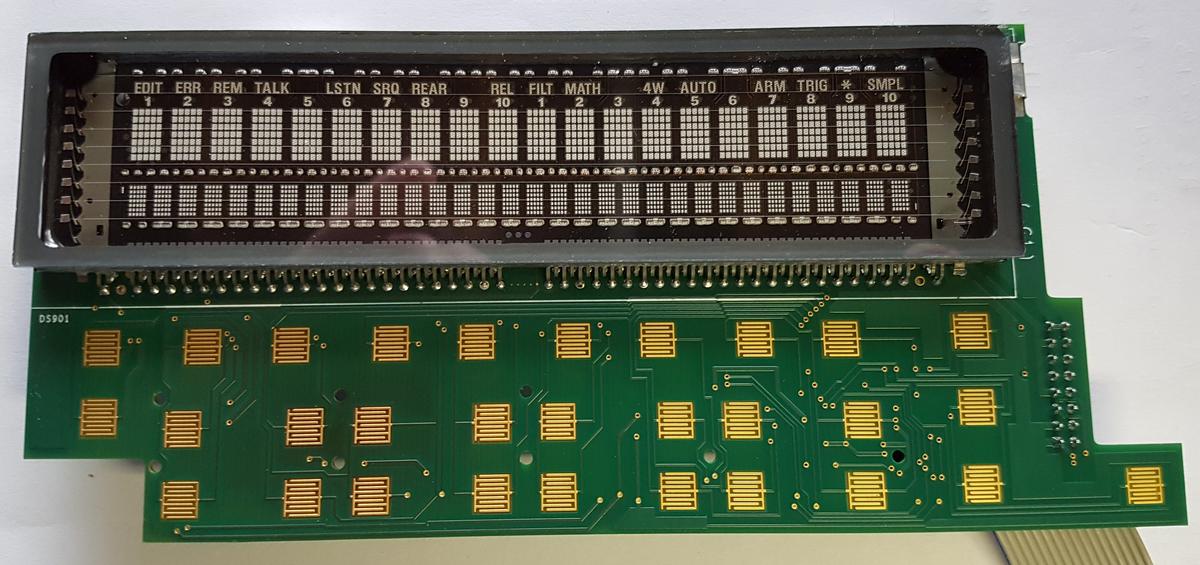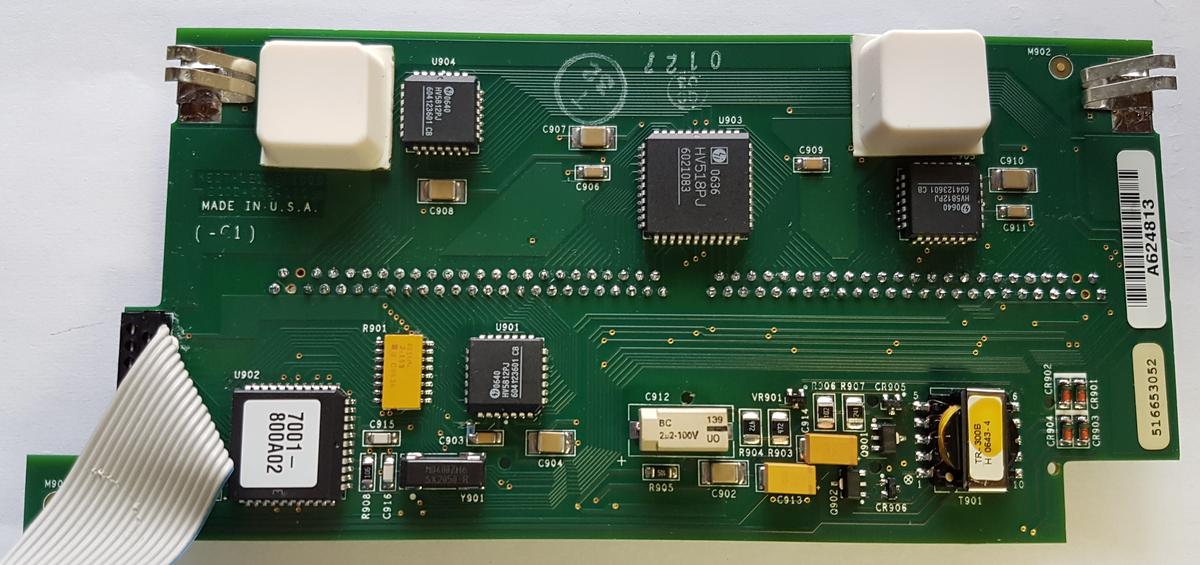 BOE

DD-51, Donor Keithley 7001 (

PCBA

manufactured around 2006 week 17)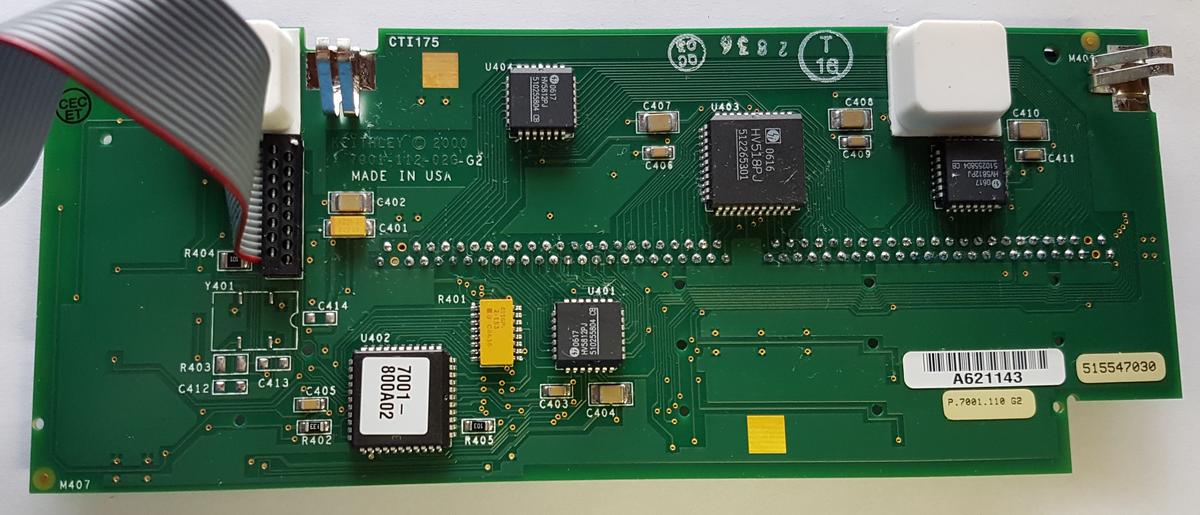 Itron DD-51, Older xDevs.com's Keithley 2002 (
PCBA

manufactured around 1995 week 2)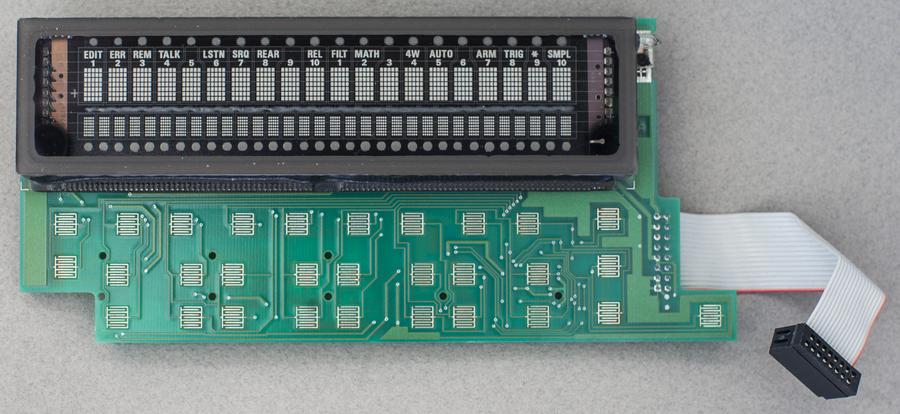 Itron DD-51, Keithley 6517A Electrometer front panel (
PCBA

manufactured around 1997 week 44)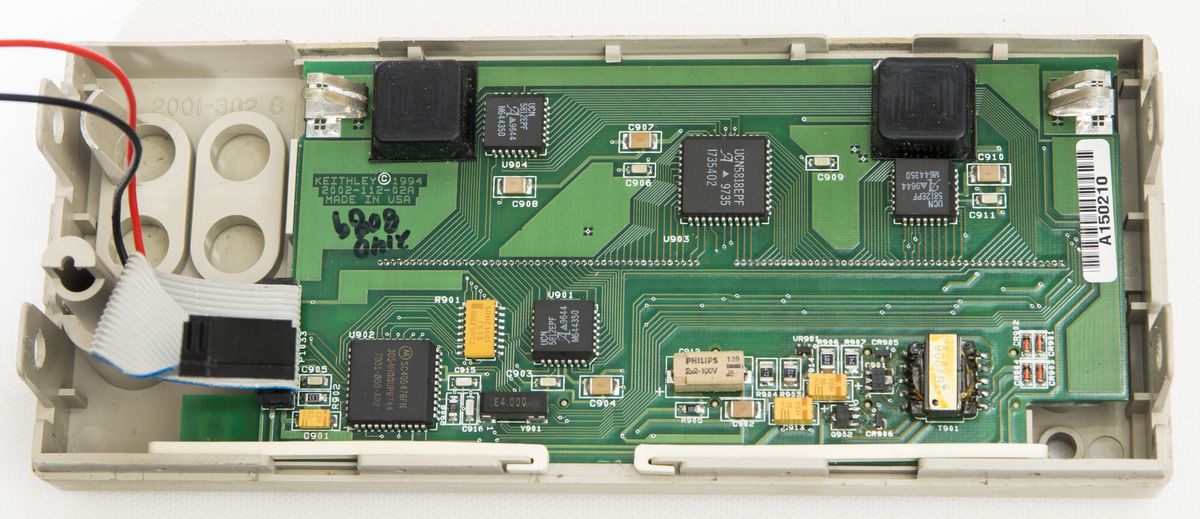 BOE

DD-51, Keithley 2400

SMU

(

PCBA

manufactured around 2000 week 9)
BOE

DD-51, Keithley 2510

SMU

(

PCBA

manufactured around 2008 week 26)

Major difference – pins from glass are formed as inline on older Itron VFD, versus checker pattern dual-line on newer BOE displays. It's still possible to bend pins slightly to install either of them on target board, however that require careful work. Pins are fixed by epoxy to the glass, and they can be damaged rather easily, especially when soldering.
Removed display: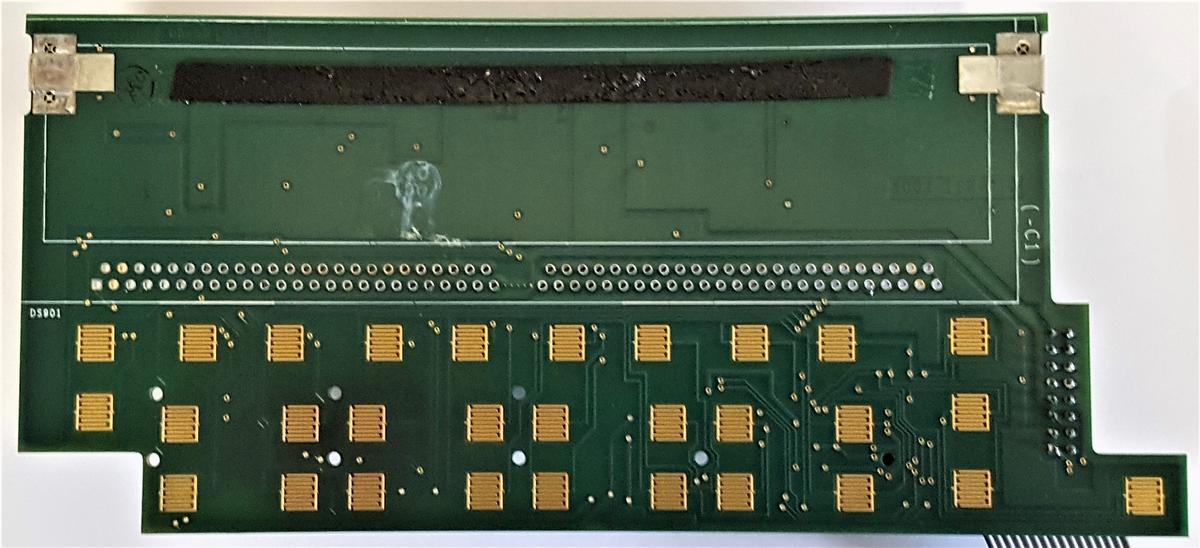 Comparison between different glass used in Keithley DD-51-based instuments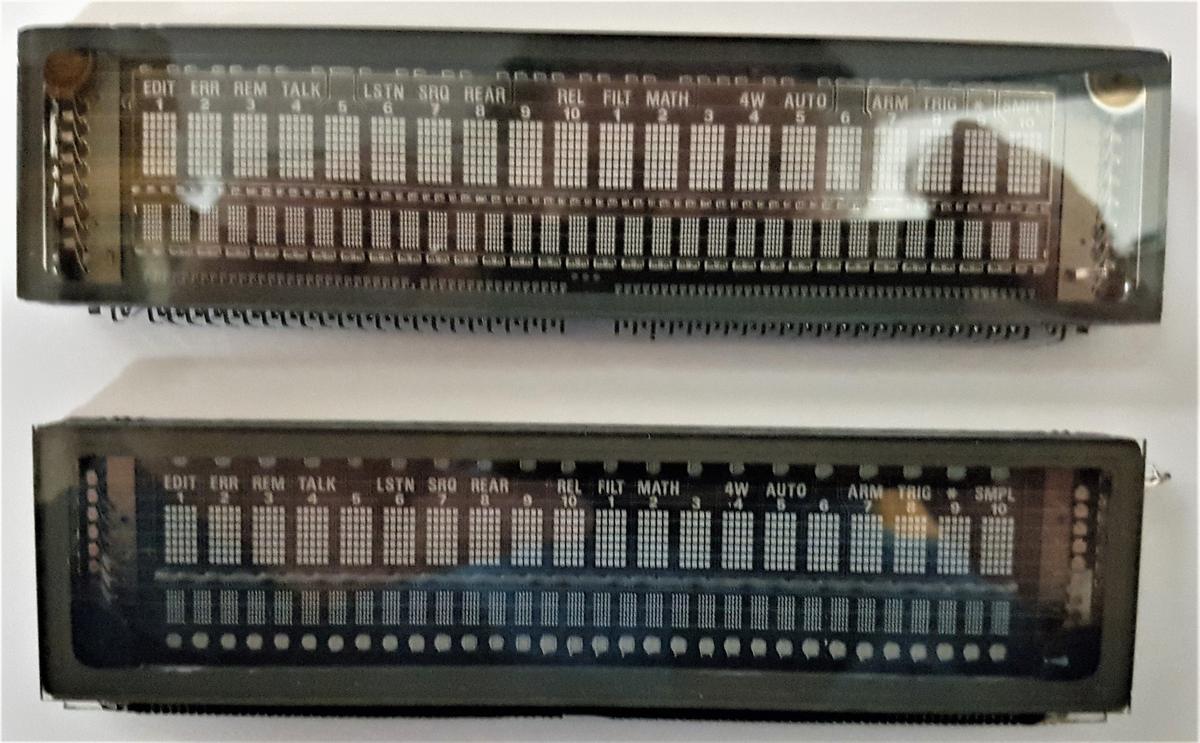 Top display is newer BOE, bottom is older Itron.
Newer DD-51 type
BOE
VFD


Older DD-51 type Noritake-Itron
VFD

:


My 2002 is serial number 113XXXX, the 7001 that was the donor was serial number 111XXXX.
The xDevs.com repair article Keithley 2002 has serial 0603505. My first Keithley 7001 that I was going to use as a donor has the Itron display, it's serial was 065XXXX.
The K2002 BOE board has the markings No. 84210-8421 VFD36-5201FN, sticker reads 2006-J3-06-009 on the backside. The donor board was identical except the sticker read 2006-J3-06-004.
It would be my assumption that the manufacturing date is the 2006, between 4th and 9th week. The Itron display that I initially removed has the number CC1 055G on the back.
Besides serial of the unit there is one way of visually determining the display used without disassembling the unit. The middle of the BOE has internal connections that look like bright dots, the Itron display has a squiggle of gray dielectric material.


Peeking through the bezel of an unpowered meter you can make both of these features out.
There is also some factory modification on BOE type board. Looks like 4.99 KΩ pull-up for some signal line.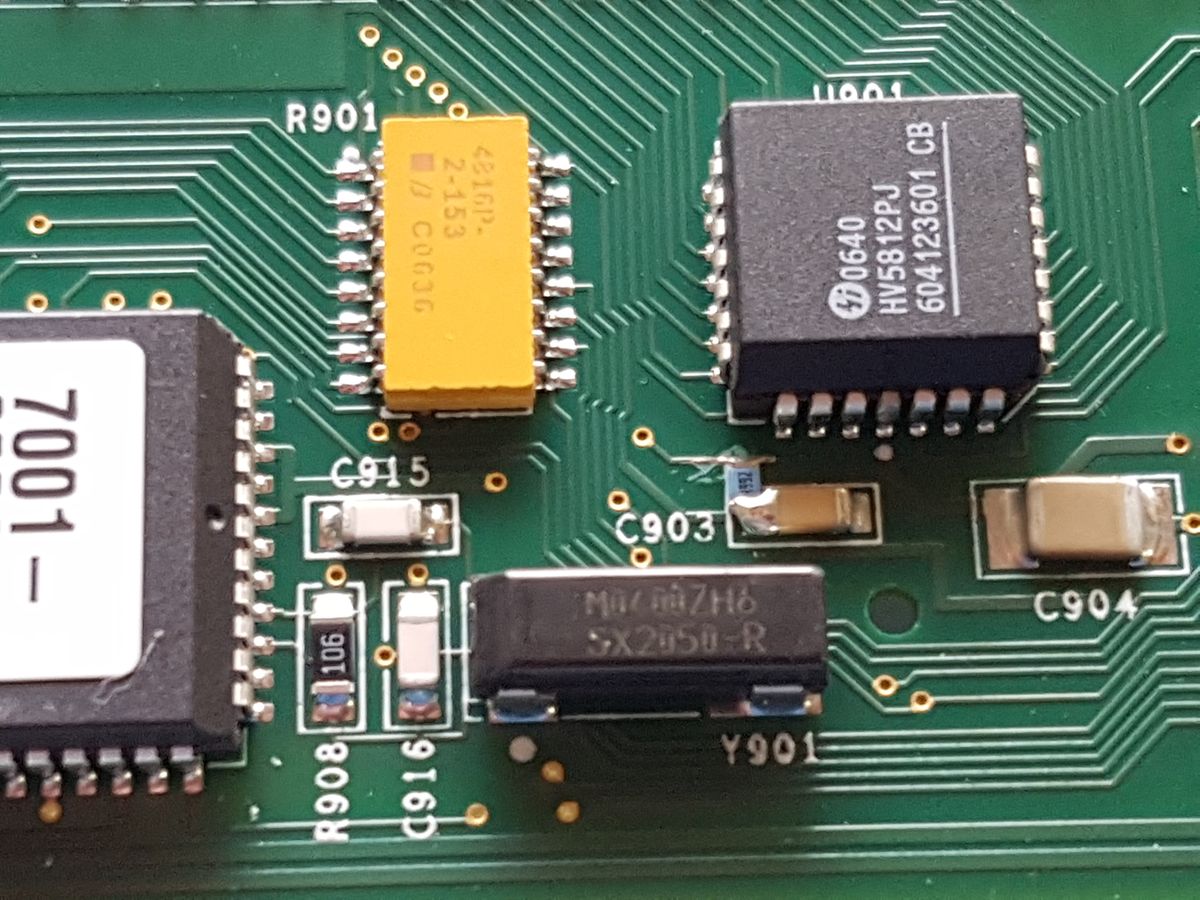 Created: March 15, 2020, 7:13 p.m.

Modified: March 15, 2020, 7:56 p.m.
---