The Tektronix TLA714 is a "Portable Analyser Mainframe". Yes, in 1999 this was considered very portable. This heavy and bulky machine and has the following set of features:
Holds 2 double-wide modules, which include logic analyzers, pattern generators and digitizing oscilloscopes
8 GHz deep timing analysis
Up to 800 MHz state acquisition with 1.2 GB/s data rate for advanced processors and buses
Broad processor and bus support universal source code support for correlating high-level language source with real-time trace
Performance analysis support for optimizing target system remote control using Microsoft

COM

/DCOM technology supports advanced data analysis
MagniVu™ technology provides 500 ps timing resolution on all channels all the time through the same probe
Microsoft Windows PC platform provides familiar user interface with network connectivity
Simultaneous state and high speed timing analysis through the same probes pinpoints elusive faults
Intel Pentium

MMX

266MHz

CPU

(Embedded version)
Up to 256MB

RAM

(by

SDRAM

PC100 2 x SO-

DIMM

modules)
Intel 430VX chipset

IDE

2.5"

HDD

and

IDE

CD-

ROM

drives
800×600"

TFT

with 2MB embedded

VGA

3.5" Floppy Disk Drive
Built in trackpad and external PS/2 Keyboard & Mouse connectors
2 x

USB

Ports
2 x

PCMCIA

(

PCC

ard) Slots
TLA714 was released to world 1st July 1999, so we looking at 16-year old gear here. List Price at release was $10500 USD (analyzer mainframe only) or $11125 USD (with TLA7N4 logic module). Software at release was Windows 98 with TLA Application version 3.0. Later units came with Windows 2000 SP2, TLA Application Version 4.4.
TLA714 was replaced by TLA715 in 2001, which got significant upgrade on computer side, with Intel Pentium III 733MHz processor, up to 512MB DRAM. Today both mainframes are obsolete and not supported officially, being sucedded by TLA7000 and TLA6400 series.
There are a number of different Logic Analyser modules that can be installed in the TLA714 :
Module model name
Amount of channels
Connector type
Max speed
Max depth
TLA7N1
34 channels
2.54" pitch ports
TLA7N2
68 channels
2.54" pitch ports
TLA7N3
102 channels
2.54" pitch ports
TLA7N4
136 channels
2.54" pitch ports
TLA7D1
2 channels, analog

BNC

TekConnect ports
TLA7E2
4 channels, analog

BNC

TekConnect ports
TLA7PG2
64 channels, pulse generator
Pod ports
If mainframe upgraded with TLA Application V5.1 or newer, it can accept and run newer modules without any problems as well.
| Module model name | Amount of channels | Connector type | Max speed | Max depth |
| --- | --- | --- | --- | --- |
| TLA7AA1 | 34 channels, analog mux | Mictor high-speed port | 450MHz | 32M |
| TLA7AA2 | 68 channels, analog mux | Mictor high-speed port | 450MHz | 32M |
| TLA7AA3 | 102 channels, analog mux | Mictor high-speed port | 450MHz | 32M |
| TLA7AA4 | 136 channels, analog mux | Mictor high-speed port | 450MHz | 32M |
| TLA7NA1 | 34 channels | Mictor high-speed port | 450MHz | 32M |
| TLA7NA2 | 68 channels | Mictor high-speed port | 450MHz | 32M |
| TLA7NA3 | 102 channels | Mictor high-speed port | 450MHz | 32M |
| TLA7NA4 | 136 channels | Mictor high-speed port | 450MHz | 32M |
Latest TLA7ABx, TLA7ACx, TLA7BBx, TLA7BCx likely to work too, but I don't have any to actually test. Serial modules such as TLA7SA and TLA7S series probably will not work at all.
Before we dig into internals of this machine, let's take a look on documentation
Document
Tek's reference ID
Tektronix Logic Analyzer – Quick Start Manual
Tektronix 071-1575-02
Tektronix Analyzer User Manual – Software v4.4
Tektronix 071-1236-01

TLA

Family – Logic Analyzers
Tektronix 52W-14259-0
TLA700 Series Key Features
Tektronix 52W-11144-5
Tektronix Logic Analyzer – Service Manual
Tektronix 071-0267-01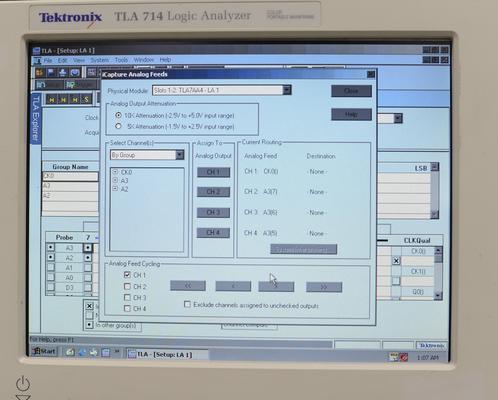 Unit I got was storaged in damp conditions, and mainboard had corrosion and rust all over it. So let's tear it apart and repair.
PC mainboard was replaced with working one, sourced from second market separately.
Backplane features connectors for aquisition modules and power supply, acting as interconnect:
Mainframe's brain motherboard is located on top of backplane, at left unit's side.
It is complete system with Intel Pentium MMX 266MHz embedded processor.
TFT LCD panel 640×480 pixel
Power supply:
Front panel assembly with optical drive and floppy drive.
It also does have all buttons and front knobs, emulating keyboard and touchpad for user operation.

Stripped aluminum frame:
Now let's reassemble everything with new PC board and test it
I used Tektronix P6810 probe and 3V source to check logic signal operation.
iView Technology:
Setup : TLA714 + TLA7AA4 + P6860 probe, scope : TDS7704B, interface: NI GPIB-USB-HS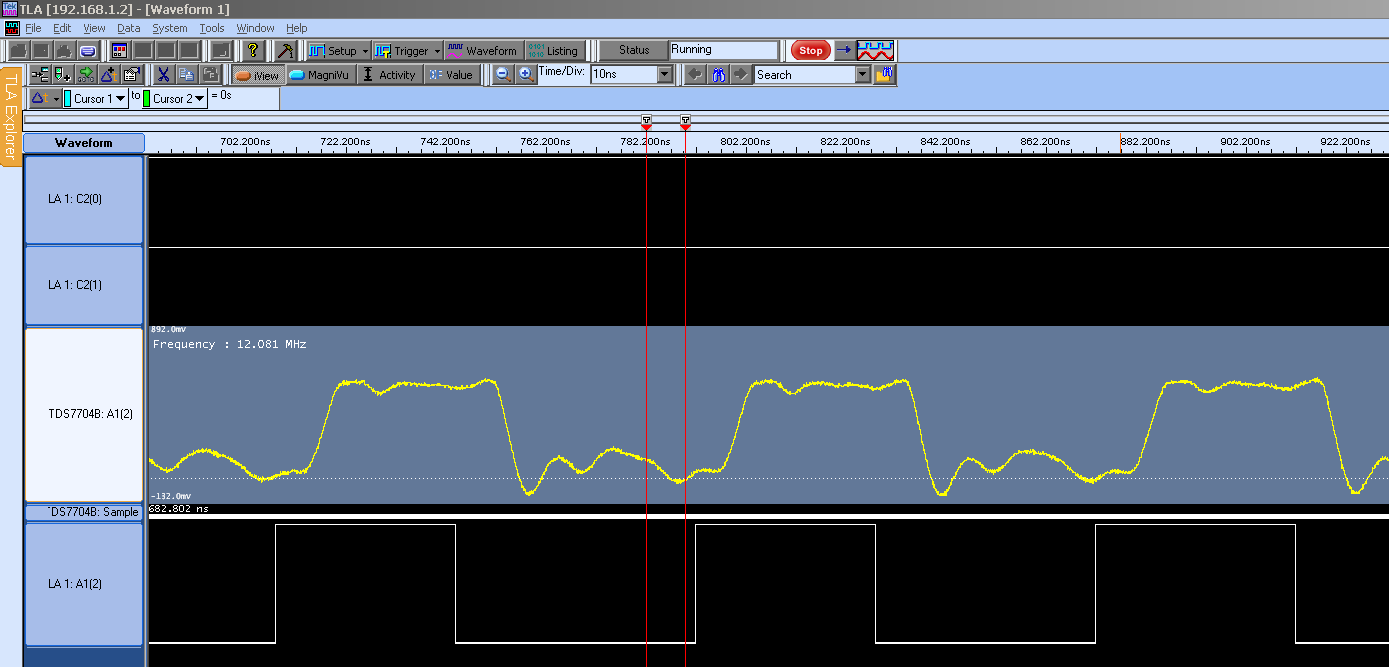 Current finance report on project Tektronix TLA is available in table below:
Item
Date
Paid cost
Shipping
Tektronix TLA714 mainframe
—
$1000

USD

0
Tektronix 020-2457-00

PCB

-Mictor adapter
05/07/2012
$80

USD

$41

USD

Tektronix TLA7AA4 Logic Analyzer Module w/ Option CS 2MB
06/28/2012
$199.99

USD

$47.95

USD

NEW

Emulation Technology

MIC

-38-

BREAKOUT

Mictor Male
07/22/2012
$69.95

USD

$16.95

USD

Tektronix TLA714 LA Mainframe W/Option 1S, 128M, 2

PCB

s
07/16/2012
$199.99

USD

$29.74

USD

NEW

512mb 2 × 256mb pc133 sodimm 144pin sdram Laptop
07/09/2012
$15.99

USD

Free
Tektronix P6860 probe set – 2 pcs
07/05/2012
$189.98

USD

$46.41

USD

Tektronix P6810 probe set
11/05/2012
$919

USD

Free
Mictor 38 adapter to testpoints with header
12/03/2012
$49.99

USD

$6.99

USD

Intel

PRO

/100 CardBus II 10/100 Ethernet

LAN

Adapter
11/06/2012
$9.99

USD

Free
Nexus Technology

NEX

-PRB2X Probe Cable for Tektronix
11/03/2012
$66.40

USD

$36.01

USD

Total
$2801.28

USD

$225.05

USD
Grand total with shipping: ~3026.33 USD
As you can see, cost of probes and adapters can be easy way greater than TLA mainframe itself!
Created: Aug. 15, 2015, 7:38 a.m.

Modified: Feb. 16, 2016, 3:17 a.m.
---