One more year down the road. In this post I'd like to summarize progress during last 12 months, to give you a brief idea of new (and old) things changed here since 2014. xDevs.com site first saw the light in 2008, as experimental project to provide something back for all those engineers who contributed countless projects online, from which we all learn. It was not always easy to maintain everything running, but we still here around.
Web-site updates and features
During 2014 I had very simple interface on site, minimal amount of styling and just few articles published. I do like sites with good coverage of technical details about things, good thorough descriptions of projects and efforts required, on today's IoT and embedded industry boom it's hard to find site which does not load your browser with hundreds of kilobytes JavaScript code, Flash applets and megabytes of advertisement banners and garble-ware. Some may forget, that main purpose of website is to provide new and valuable information about products, services, technology or just people's ideas. It's always easy to judge others, but that not helping much, without doing things right and giving example how things can be done.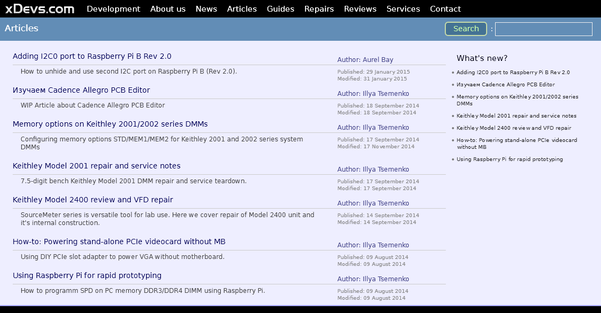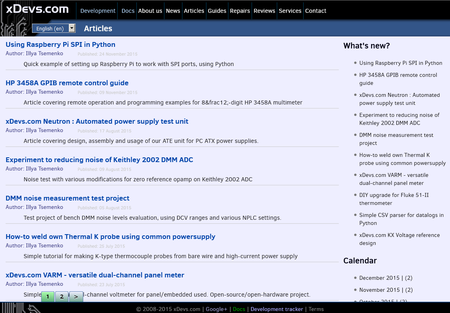 xDevs.com site in 2014 (left) and xDevs.com site today, end of 2015 (right)
Always difficult to choose one of two concepts – adding more features at expense of simplicity or keeping absolute minimum to keep browsing and getting important information comfortable and easy.
Most of changes on site were done in back-end area, to allow easier article publications and better reading experience.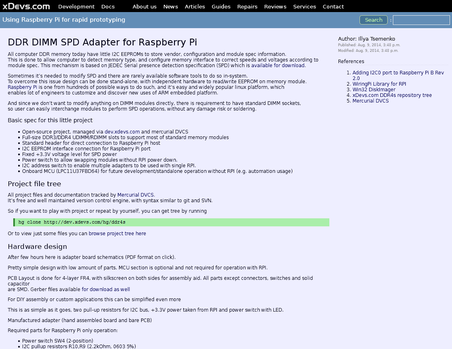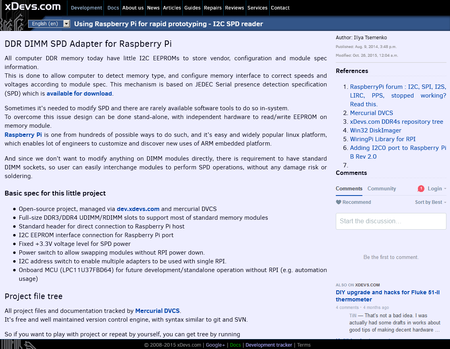 Article view in 2014 (left) and same article today, end of 2015 (right)
Site got these new features in 2015:
Multiple languages support for articles (currently only English/Russian)
Much better compatibility with mobile smartphone and tablet devices
Display styles updated for cleaner looks with new tags, indexes, sections
Online calculators and templates are added for quick engineering reference/calculations
Disqus comment system added to allow discussion on various articles/guides
Front page leads to news section by default, to provide quick glance what's added since your last visit.
Secure

HTTPS

protocol used now by default for everything
Full

HTTP

/2 support to improve speed and provide smooth viewing experience

FTP

-server for documentation, photos, data exchange and upload
New redundant 3TB storage space

IRC

chat server running at irc.xdevs.com (standard 6667 port)
Many new articles, reviews and repairs were performed and uploaded
Also new documentation website launched (Main focus on test gear firmwares, manuals and internal photos).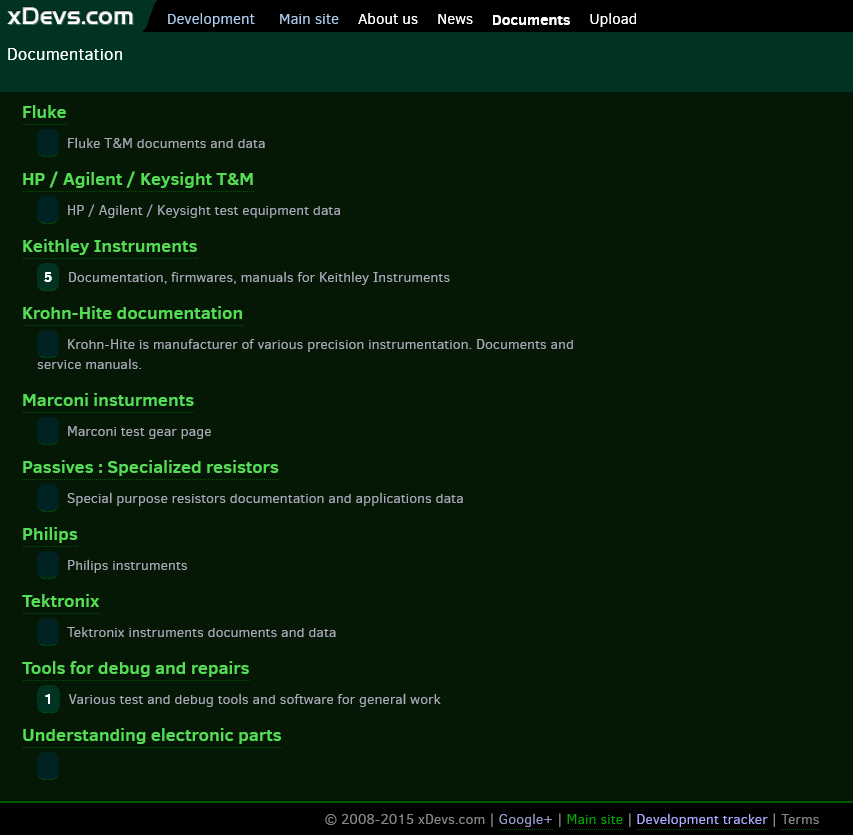 %(imgref)Documentation website doc.xdevs.com
This satellite site using same concept, but focus to serve sole purpose of maintaining firmware/documentation database for mostly old test equipment and instruments, which is still very useful if serviced and repaired properly. Sad to see older capable equipment, which had thousands of man hours invested in it to go landfill and scrap just because it does not have blingy touchscreen LCD with horrid viewing angles and fancy LEDs and knobs.
New content on site
Full list of all new articles in 2015:
That's total 41 articles added, with few more still in works. Some of articles were worthy read, such as tremendous HP 3458A repair worklog , interesting DMM noise measurement project. Also let's not forget about welding own thermocouples and our ultra-stable voltage reference design both of which were even covered on Hack-A-Day here and here.
Summary
During 2015 our website visited 9135 users, with over 36K views. 49% of these visitors were english-speaking and 15% russian-speakers. It's not much, but let's face the truth, there is no staff involved in full-time project development, nor any target to get site most popular. I'd prefer to keep high SNR-level on content we publish, instead going all about broad-topic talks for wider audience.
I'm also proud to host first article from one of hobbyists, TEKTRON from russian-speaking Radiokot.ru.
Online helpers and calculators: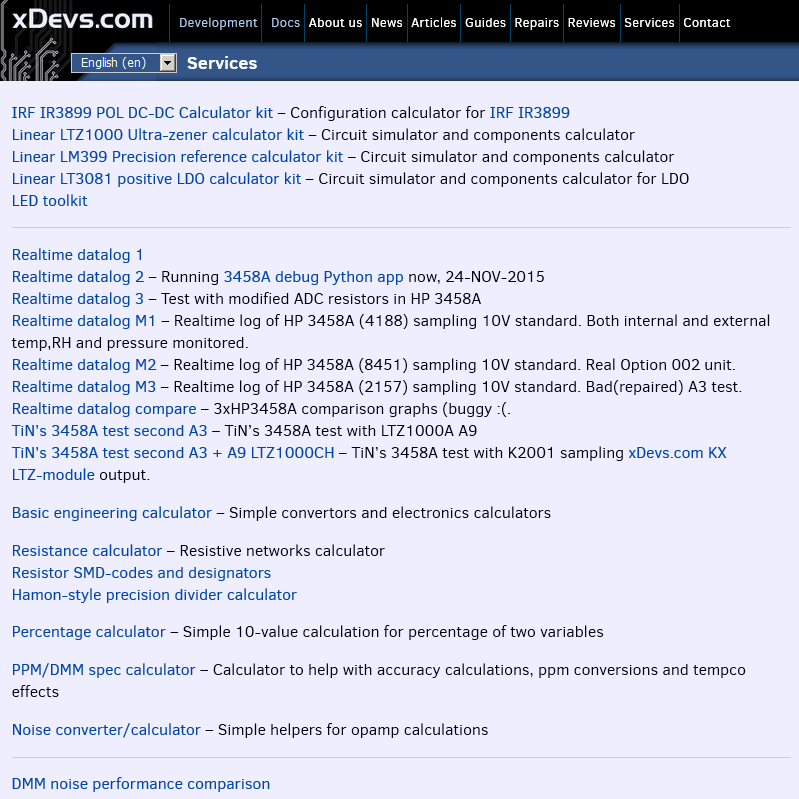 Online engineering tools page
There are still lot of things to do and improve, so looking forward to next year progress and contributions, targeting to provide even better quality content.
Few main areas to focus next year are getting every single article and part of site translated into both supported languages, cover few of our new xDevs.com projects and devices, cowork with other hobbyists, and hopefully much more valuable how-to's and content online! Contact me if I missed something, or have any questions.
Happy New 2016!
Illya Tsemenko
xDevs.com Project
Created: Dec. 30, 2015, 8:22 a.m.

Modified: Oct. 20, 2021, 12:13 a.m.
---